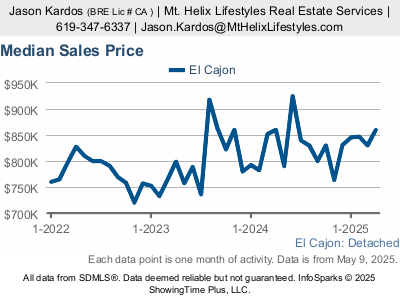 Here are the latest homes for sale in El Cajon, Ca for the last 6 months:
Search Results:
37 Properties
Days on Market
Last 3 mo.
The El Cajon valley nestles below the San Diego foothills and its name means "big box." The friars at San Diego Mission used this geography to their advantage to pasture their cattle. The hills kept the cattle from wandering and provided watershed. After the missions were secularized, the valley land was given to Dona Maria Antonio Estudillo, wife of Don Miguel de Pedrorena to fulfill a debt of the government. That grant included the area that eventually developed into Santee, Bostonia, Glenview, Johnstown, El Cajon and part of Grossmont. Issac Lankershim bought the land from the Pedrorena's and subdivided the land for wheat farming. It quickly became apparent that the soil and climate were perfect for a number of crops and the valley farmers grew citrus, avocados, grapes and raisins. The gold miners of Julian traveled through the valley on their route to San Diego, camping at the current site of Main and Magnolia. A commercial center grew up around this campground with a hotel and a small business district. In November of 1912, the settlers voted to incorporate a one and a quarter square mile area centered around the Main and Magnolia intersection. The area enjoyed modest growth until WWII when its population and land area expanded rapidly. Today, El Cajon is a vibrant community with a variety of art galleries, photography studios, shopping and restaurants. It is home to the East County Performing Arts Center. The downtown area recently received a National Main Street Certification and has also received that designation from California. The city started the Mother Goose Parade, held on the Sunday before Thanksgiving, over 50 years ago and it has grown into the largest parade in San Diego County and one of the biggest parades in the country. Golf, hiking, paragliding, biking, fishing or climbing the high desert of East County with its emphasis on eco-tourism offers a world of family entertainment. World-class resorts and Las Vegas style casinos, and the Pacific Ocean just 20 minutes away will make your stay complete. Join us for destination events such as the renowned eco-event Sage and Songbirds. May through September enjoy Concerts on the Green in El Cajon or take a seat in the outdoor amphitheater on Mount Helix in La Mesa or the East County Performing Arts Center in El Cajon for a concert or a Broadway style musical. Car enthusiast will revel in the Cajon Classic Cruise and the La Mesa Merchants Car Show. Best of all join us in December for a moving Victorian "Christmas in the Village" presented by the La Mesa Village Merchants. Any town that can turn an alleyway into an art district is a place unlike any other. With a pedestrian walkway of famous literary quotes and colorful murals painted on every wall, the area between Main Street and Rea Avenue has become something of a local mecca for art and culture in El Cajon. Add to that over ten years of community-sponsored Concerts on the Green, 50 years of the Thanksgiving-themed Mother Goose Parades and buildings like the East County Performing Arts Center, and this neighborhood instantly earns high points for vibrancy and culture. With so much activity to draw people in, it's no wonder new businesses continue to expand El Cajon's revitalizing economy. Just 25 minutes from downtown San Diego and 30 minutes from the Mexico border, El Cajon may be home to the next Michelangelo.
     Unlike some other areas of the County, El Cajon is built out and does not have large tracts of open land available for development. New construction is either built on vacant lots or involves the rehabilitation of older buildings and sections of the city. El Cajon comprises several communities including Fletcher Hills, Granite Hills, Dehesa, Bostonia, Crest, Grossmont, and others. Many of these, including Crest, Dehesa, Flinn Springs, and Harbison Canyon feature a rural small-town feel with smaller homes on large lots and horse properties. Fletcher Hills has a large number of apartment complexes, many of which are being turned into condominiums. Newer planned communities such as Singing Hills Estates, Monarch Ridge, and Canyon View Estates offer luxury ranch and Spanish style homes within close proximity to El Cajon's business and shopping districts such as Grossmont Center.
What\'s My Home Worth?
Fill out these basics about your home and I\'ll get back with you!