The neighborhood of Casa de Oro is considered the gateway to Mt. Helix Park and is part of the unincorporated portion of the County of San Diego. The Mt. Helix/Casa de Oro Area generally consists of commercial and high-density residential core along Campo Road and low-density high-income housing to the north up the slopes of Mt. Helix. To the east, the area gradually becomes more rural and agricultural in the vicinity of Jamacha Road. This community appears to be in a healthy state, and the main threat of change comes from pressures for higher-density residential development in the Mt. Helix Area, and the rural agricultural area near Jamacha Road.
Existing residential development varies widely in the Valle de Oro Community Plan Area. The Mt. Helix/Casa de Oro area has some high-density residential uses near Campo Road and Highway 94, but the bulk of this area's residential stock consists of upper-income custom home development (one-half acre minimum) on the slopes of Mt. Helix, and in the flatter, more rural areas to the east near Jamacha Road. This eastern portion near Jamacha Road is in an area where low-density residential and agricultural uses mesh well.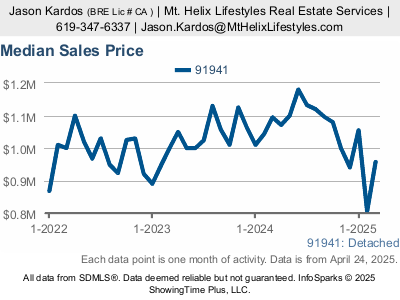 Here are the latest homes for sale in the Mt. Helix and Casa de Oro neighborhoods for the last 6 months.
Search Results:
13 Properties
Days on Market
Last 3 mo.
$2,138,460
Broker: Crescent Tree Corp.
$900,000
Broker: First Team Real Estate
$1,399,000
Broker: Steele Canyon Realty
$1,125,000
Broker: Coldwell Banker West
$864,900
Broker: Keller Williams Realty
$1,139,000
Broker: Team Z Realty
$880,000
Broker: Home Investment Center
$1,400,000
Broker: COLDWELL BANKER LEADERS
$1,100,000
Broker: Marketing Specialists
$1,690,000
Broker: United Real Estate San Diego
$1,129,000
Broker: Pacific Hills Realty
$1,174,000
Broker: Coldwell Banker West
$435,000
Broker: American Dream Homes
What\'s My Home Worth?
Fill out these basics about your home and I\'ll get back with you!