Spring Valley, California is the largest un-incorporated community in the county of San Diego, covering thirteen and a half square miles. Located 11 miles east of the city of San Diego, Spring Valley is bordered by La Mesa and El Cajon to the North, Jamul and Dulzura to the East, Sweetwater and Bonita to the South, and Paradise Hills and Lemon Grove to the West. Within Spring Valley's boundaries can be found a variety of smaller communities – Casa de Oro, Rancho San Diego, La Presa, Dictionary Hill, Mt. Helix, and Bancroft.
     Today it is dotted with condos and affordable homes to house its dense population of more than 100,000 residents. Spring Valley is a community of rolling hills and countryside 17 miles East of San Diego. It is 481 feet above sea level, virtually smog free, and a 20-minute commute to downtown via Hwy 94.
     As part of San Diego County, Spring Valley offers a close-by geography sharing a landscape of choices, from bay front urban living to snow-dusted slopes in the rural back country in a mild climate influenced by ocean currents and abundant sunshine. Summer temperatures average 89 degrees and winter 61 degrees. Spring Valley is the county's largest unincorporated community, yet offers a "small town flavor" to each of its residents. Lifestyles range from apartment or town home residents to the urban professional, and on to those with larger properties for enjoying horses, livestock and rural community life.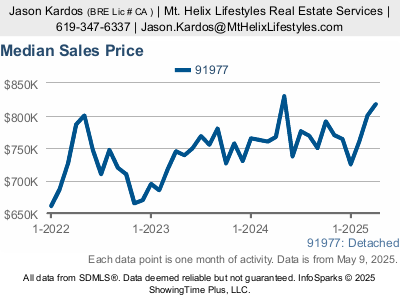 Here are the latest homes for sale in Spring Valley, California for the last 6 months
Search Results:
89 Properties
Days on Market
Last 3 mo.
What\'s My Home Worth?
Fill out these basics about your home and I\'ll get back with you!
Utilities
San Diego Gas & Electric El Cajon Branch 104 N. Johnson Avenue / El Cajon, CA 920201-800-411-SDGE (7343) /
www.sdge.com
Water Services: Otay Water District2554 Sweetwater Springs Blvd / Spring Valley, CA 91978(619) 670-2222 /
www.otaywater.gov
Helix Water District 7811 University Avenue / La Mesa, CA 91941(619) 466-0585 /
www.hwd.com
Sweetwater Authority 505 Garrett Avenue / Chula Vista, CA 91910(619) 420-1413 /
www.sweetwater.org
Cox Communications 5159 Federal Blvd. / San Diego, CA 92105(619) 262-1122 /
www.cox.net
Education
Elementary Schools